with the purchase and delivery/installation of 2 or more qualifying
Whirlpool Major Appliances
June 20 - July 10,2019
Receive a Visa® Prepaid card up to $500 with the purchase of 2 or more qualifying Whirlpool appliances. Only one model per product category is permitted.
• 2 Appliances Gets $50. • 3 Appliances Gets $100. • 4 Appliances Gets $200
• 5 Appliances Gets $300. • 6 Appliances Gets $500
CATEGORIES IN THIS REBATE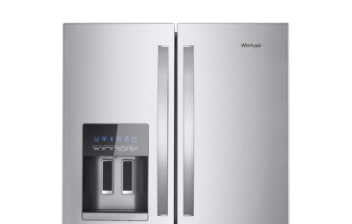 Refrigeration
Ranges
Cooktops
Wall Ovens
Dishwashers
Microwaves
Washers
Dryers
Load & Go™ dispensers
Washing her ballet leotard and unsure of how much detergent to use? Add detergent and fabric softener once and don't worry about refilling for multiple loads. You'll get just the right amount every time — without even thinking about it.
The ideal space to gather.
Want a space that helps hide marks left behind from sticky fingers, where you can get together with friends and family to cook, chat and relax? They're easy to clean and designed to resist smudge marks and smears so your focus can be on making dinner, running out to soccer games or all the a ctivities important to your family.